Hey Readers!
I have a very special review for you today! :D
Yep, it's another ARC :D I love doing book tours! Thanks again to the awesome Princess Bookie for letting me participate in the Around The World ARC tour for this.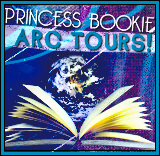 Now for the review:
Ripple by Mandy Hubbard
(Summary:)
Lexi is cursed with a dark secret. Each day she goes to school like a normal teenager, and each night she must swim, or the pain will be unbearable. She is a siren - a deadly mermaid destined to lure men to their watery deaths. After a terrible tragedy, Lexi shut herself off from the world, vowing to protect the ones she loves.
But she soon finds herself caught between a new boy at school who may have the power to melt her icy exterior, and a handsome water spirit who says he can break Lexi's curse if she gives up everything else. Lexi is faced with the hardest decision she's ever had to make: the life she's always longed for - or the love she can't live without?
As always, let me take a moment to just admire the cover....It's so gorgeous! I did a cover news post on it back when it came out, which you can find
HERE
if you want. Anyway, one thing I really like about it is the attention to detail with the outfits. I know, I'm weird, but Cole and Lexi wear those EXACT same outfits in the book, and for some reason, I thought that was cool. Besides that, I really love the COLORS on the cover, the water, just everything. Also the scales on Lexi's leg...nice touch! ;)
Anyway, I've been a fan of Mandy Hubbard's for a while, since I read her first book, Prada & Prejudice. And then last year, I read her second, You Wish. I really enjoyed them both--funny, and cute reads. But their endings...Something was a little off about both of them. P&P's was just sort of sudden, and You Wish's was just...awkwardly sudden, I guess. It's not fun to read a whole book, just to have the ending fall flat. That's why I was a little worried to read and review this book, to be honest.
But I can't start reviewing the book at the end, so let's rewind a bit to the BEGINNING.
It started out really well. I was immediately pulled in. The tone was so different from Mandy's other books, I was surprised. I knew it was going to be a bit of a more serious book, but still. I really enjoyed it. The first chapter seemed a little out of place though, sort of more like a prologue or something.
Lexi is really great (although, admittedly, I had to look back to see what her name was, because, I swear, I only saw her name mentioned, like, three times). She's a nice character to read about. I can sum up her life with this sentence: it sucks being a siren. And it does! This is the first siren book I've read (though I've seen a couple in the bookstore), so it was really interesting to read about. I really enjoyed the fact that Mandy Hubbard gave us a little origin story about how the whole curse started, instead of just saying, "I'm cursed to be a siren" without giving us a reason WHY.
Speaking of characters, can I just say this: COLE ♥♥♥ SO MUCH love for him. Like, the sweetest guy ever. You will be voting for him, I can tell you that much. ;) Erik, however...he was great at the beginning? A good plot-moving character. I thought his whole part was awesome, because I thought the book was just going to be about Lexi trying not to kill Cole. So, yeah, much appreciated! :) Sienna was cool, but I sort of thought her part in the story was weird, for some reason. She did have a realistic ending though!
Now to talk about the pacing....I thought it was really well-paced! I had trouble putting it down, and not just because I only had a week to read it! (I actually read it within two days.) The beginning was interlaced with flashbacks from the night Lexi first killed, and I thought that was really cool! The pacing did sort of slow down towards the ending though, sort of dragged it out a bit? It had a lot of parts to it. This is random, but it sort of reminded me of the end of Eclipse, when the battle is over, but the book is, like, STILL GOING ON? I hated that a lot in Eclipse, but in Ripple, I think it was all right. I really enjoyed the ending, though, for the record. I don't want to tell you if it was a happy or sad ending (don't want to spoil!), but let's just say that I liked it a lot! :)
Side note: I was totally terrible at predicting the end though! Halfway through, I was like, "Oh yeah, that is SO how it's going to end. I'm such a genius." But it completely did not happen, LOL. Same outcome though, so points for me!
So, all in all, this is a fast, enjoyable read, with lovely characters, and a great plot. Mandy's best book so far! (...though, I haven't read But I Love Him yet, so we'll see how long it lasts, haha.)Well done!
Rating
: 4/5
Ripple is released July 21, 2011. You should definitely check it out :D
What do you guys think? Are you going to check this book out? Also, another question: are my reviews too long? And picky? I feel like I'm expressing my likes and dislikes, but sometimes there are lot of paragraphs, and I wonder if it drags out... :P Let me know?