Hey Readers,
As I promised in my last (video) post, I am back with a review for...
Anna Dressed In Blood by Kendare Blake
Cas Lowood has inherited an unusual vocation: He kills the dead.
So did his father before him, until he was gruesomely murdered by a ghost he sought to kill. Now, armed with his father's mysterious and deadly athame, Cas travels the country with his kitchen-witch mother and their spirit-sniffing cat. Together they follow legends and local lore, trying to keep up with the murderous
dead—keeping pesky things like the future and friends at bay.

When they arrive in a new town in search of a ghost the locals call Anna Dressed in Blood, Cas doesn't expect anything outside of the ordinary: track, hunt, kill. What he finds instead is a girl entangled in curses and rage, a ghost like he's never faced before. She still wears the dress she wore on the day of her brutal murder in 1958: once white, now stained red and dripping with blood. Since her death, Anna has killed any and every person who has dared to step into the deserted Victorian she used to call home.

But she, for whatever reason, spares Cas's life.
I'd been hearing about this book quite a bit, and after Cassandra Clare recommended it, well, that just sealed the deal. I mean, Cassandra Clare is a genius, so if she says a book is good, it is GOOD, okay? Add in the INCREDIBLE cover (I mean, just LOOK at it!), and I was totally in. After that, I signed up for the ARC tour for Anna, on Around The World ARC Tours. (LOVE this site!)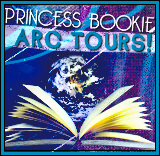 I just finished this book this morning. And I must say, it was pretty awesome.
When I started reading it, I realized that it was a lot more supernatural-y than I thought it would be. I'm normally not one for
really
supernatural books, so the talk of witches, and killing ghosts sort of threw me for a few pages. This probably could've been prevented by actually reading the first paragraph of the summary, so I guess that's my fault. But I'm glad I skimmed over it, because I may not have decided to read this awesome book!
Because this book IS very awesome. It has a really fun cast of characters. Cas was pretty cool, and was really easy to relate to, even though he is, like, Buffy The Vampire Slayer (ha!). I liked reading through his eyes, although he did really annoy me with the way he just plain USED everybody in the beginning. I have to say, though: Thomas is the BEST. He repeatedly cracked me up. Loved him (especially with Carmel)! Also, Anna....oh my goodness
Anna
. She is amazing. And scary. And...well, don't want to spoil anything else, so I can't say any more. But she was--you guessed it--awesome.
Besides that, the writing style was very nice, and the plot was pretty crazy! It was very original to me--unlike anything I've ever read before. I mean...KILLING
ghosts
? That's kind of a new one to me. Such a cool story, I loved reading it. It really keeps you hooked! I will definitley be reading every book Kendare Blake writes...
Be warned though! This book is not for the faint-hearted. There are some GRUESOME murders and ghost stories that will just plain freak you out. I was reading the last hundred pages or so this morning, and I nearly jumped when the phone rang. It's pretty crazy when a BOOK can freak you out. That's how you know you're really into it!
I actually really liked the ending, but it will leave you BEGGING for a sequel. Luckily I heard that it's the first book in a duology. That's right! Anna has a sequel, and it's GIRL OF NIGHTMARES. Due out next year! I am SO pumped!
All in all, this book was a really
cool
, and original ghostly read. But when you finish it...you might end up sleeping with the lights on. (And perhaps a strange urge to listen to Evanessence.)
Rating
: 4.5/5
Anna Dressed In Blood is released in September of this year! Keep an eye out for it...not that it'll be hard to miss with that gorgeous cover! I cannot WAIT to see the final hardcover copy!
Thanks for reading!